0
Un nuovo mondo? Nuova intervista a Tai Yasue su Re Mind
21 Jan 2020 23:17 | Zahk
Remind
kingdom hearts III
featured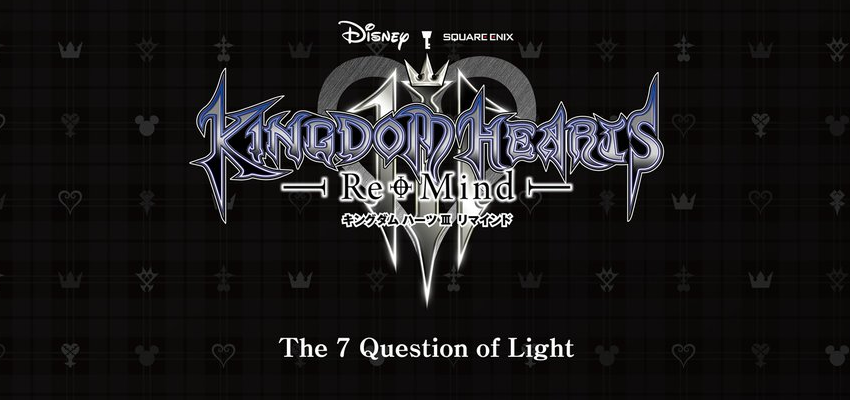 Recentemente si è tenuta una sessione Q&A su Twitter col co-direttore della serie Tai Yasue, che ha risposto a 7 domande riguardo Re Mind.
Q1: Cosa c'è di nuovo nella Versione 1.07 (Aggiornamento Gratuito)? Si possono ottenere il Portafortuna e il Lontano Ricordo?

Sì, il Portafortuna sbloccherà la "Fusione Luce", mentre il Lontano Ricordo la "Fusione Oscura". Abbiamo aggiunto anche 6 nuove abilità con nuove combo, sistemato qualche scena del gioco e sbloccato un sacco di sezioni che inizialmente erano bloccate.

Q2: Perché vi siete focalizzati sull'aggiunta della modalità foto?

I video di gameplay dei fan dopo il rilascio del gioco erano davvero interessanti, e questo è ciò che ci ha fatto smuovere. Così abbiamo voluto aggiungere qualcosa al DLC che sicuramente sarebbe piaciuto ai fan. In Data Greeting potete selezionare i personaggi che volete, dandogli poi pose specifiche ed effetti per poi scattare una foto. Potete poi scegliere immagini e musica e creare uno Slideshow personalizzato. Penso che tutti si divertiranno un mondo provandola!
Q3: Diteci come godere al meglio il Menu Premium. Perché avete aggiunto il Fastpass Code e il Black Code?

Il Menu Premium è una nuova funzionalità che vi permette di personalizzare il gioco in vari modi dal menu di pausa. Dopo aver iniziato un nuovo gioco, potete selezionare il Fastpass Code o il Black Code. Il Fastpass Code include impostazioni come la parata automatica ed è mirato a persone che vogliono finire il gioco velocemente. Il Black Code ha impostazioni come l'HP Slip (gli HP diminuiscono col tempo) ed è mirato a persone che vogliono godersi sfide più dure. Entrambi i Codici hanno i loro achievement dedicati e potete giocare con i vari settaggi in modo da ottenerli.

Q4: I membri della Nuova Organizzazione XIII appaiono come boss "Limit Cut". Sono diversi da quelli della storia principale? Chi è il più difficile?

Sono completamente diversi. Abbiamo cambiato sia l'IA che le loro mosse. Sono tutti forti e divertenti, dovrete essere bravi a bloccare, attaccare o leggere le loro mosse. Penso che Xion e Master Xehanort siano molto difficili rispetto agli altri. Sono così snervanti e soddisfacenti da battere, vi faranno tremare le mani per 15 minuti dopo averli battuti.
Q5: Nomura ha richiesto un boss segreto così difficile da far piangere, ci siete riusciti?

Abbiamo avuto tester e sviluppatori che avevano sconfitto i boss segreti precedenti della serie di KINGDOM HEARTS per fare un sondaggio e abbiamo ricevuto l'opinione che era davvero abbastanza difficile da farli piangere. Ha un numero elevato di attacchi, bisognerà creare una strategia perfetta. Ma proprio come i membri della Nuova Organizzazione XIII, esiste un modo per contrastare i movimenti di questo boss. Non è impossibile, infatti se si gioca perfettamente si può vincere senza subire un singolo colpo.

Q6: Cos'altro è stato aggiunto in Re Mind?

Re Mind ha uno scenario che amplia il finale della storia principale e vi permetterà di divertirvi con nuove azioni coordinate giocando con Kairi, Roxas, Riku e Aqua. Nella versione giapponese del gioco si potranno inoltre cambiare le voci tra giapponese e inglese.

Q7: Infine, un messaggio per i fan!

Questo DLC espande tutto, battaglie, trama e gameplay, permettendovi di divertirvi con KH3 ancora più a fondo. Per coloro che non vedono l'ora di scoprire la storia e giocare con nuovi personaggi c'è Re Mind, per coloro a cui piace essere creativi c'è il Data Greeting e la Slideshow, per coloro che vogliono cimentarsi in battaglie impegnative c'è il Limit Cut con la Nuova Organizzazione XIII, per coloro che vogliono sperimentare musica ed effetti speciale c'è la registrazione dell'orchestra; abbiamo preparato una vasta gamma di contenuti per soddisfare tutti i tipi di gusti, quindi per favore giocateci e vedrete!
Ma non è finita qui! Square Enix ha recentemente pubblicato un articolo sul suo blog che riassume un po' gli eventi successivi all'uscita di KINGDOM HEARTS III, l'annuncio di Re Mind, l'uscita della serie di KINGDOM HEARTS su Xbox One e il lancio pubblico della demo di KINGDOM HEARTS III.
La sezione che parla di Re Mind include affermazioni molto interessanti: in una frase si cita un "nuovo mondo" incluso nel DLC.
In giugno, poco dopo l'E3, abbiamo rivelato una nuova espansione DLC per KINGDOM HEARTS III. Poi proprio questo mese durante il PlayStation State of Play abbiamo annunciato la data di uscita su PS4!

Nel caso ve lo siate persi, il DLC Re Mind verrà lanciato su PlayStation 4 il 23 gennaio 2020, mentre su Xbox One il 25 febbraio 2020!

L'espansione aggiunge molti nuovi contenuti, incluso un nuovo mondo, contenuti di storia aggiuntivi, dei bellissimi nuovi Keyblade, nuove battaglie contro boss, un sacco di opzioni aggiuntive per la modalità foto e un nuovo menu che vi permette di modificare la difficoltà in nuovi modi.

La cosa più eccitante per i fan è forse che fanno ritorno i personaggi della serie FINAL FANTASY, inclusi Aerith e Leon.

E' ora possibile preordinare il DLC Re Mind. In alternativa, si può anche prenotare il bundle con KINGDOM HEARTS III Re Mind + il video del concerto, che include scene registrate durante il concerto KINGDOM HEARTS - World of Tres di Osaka.
Al momento è ancora incerto se con "nuovo mondo" si riferiscano a Scala ad Caelum, al Mondo Finale o a qualcosa di completamente nuovo, ma è anche da considerare la possibilità che sia stato semplicemente un errore. Tuttavia, KINGDOM HEARTS III Re Mind verrà rilasciato giovedì 23 gennaio, quindi lo scopriremo presto!
Articolo: Un nuovo mondo? Nuova intervista a Tai Yasue su Re Mind